Moose Viewing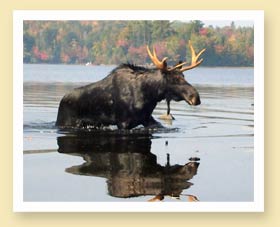 Moose Viewing from the Errol Motel
The Great North Woods is home to a vast majority of New Hampshire's moose population. The Errol Motel is centrally located among several active moose viewing hot spots.
Our guests often boast of their multiple encounters with the clumsy but swift creatures. Depending on the area, time of day, and length of your drive, it is not uncommon to sight six or more moose in one evening!
So if it's Moose you're looking for - we've got 'em!