Welcome to the Errol Motel website!
(603) 482-3256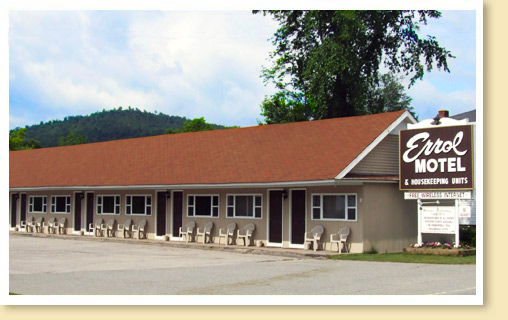 After careful consideration we have decided to sell the Errol Motel. Though many of you began as patrons you have quickly become friends, our decision was far from easy. Your loyalty and support through the years has been appreciated. It has been a pleasure to provide clean and comfortable lodging in the great north woods. We know that the Young Family will continue this tradition. As new residents to the area themselves they bring great energy to a special place. Their attention to detail, pleasant manner, and enthusiasm will assure a seamless transition during this time. We thank you for welcoming them as you did us. We hope they will be as fortunate as we were to call you a friend. Thanks for the memories from the bottom of our hearts we wish you and yours the best! - Ricky & Linda Blais
The Errol Motel is Smoke-Free!
After careful consideration, in an effort to better serve all of our patrons all the rooms at the Errol Motel are now smoke- free. We sincerely apologize for any inconvenience this may cause you. We look forward to serving you for all your lodging needs.
All rooms are pine interior with a country decor!
We look forward to seeing you and making your visit enjoyable.
Matt & Michelle Young
The Errol Motel - Northwoods Nostalgia
Clean, Comfortable & Courteous
We Are Pet Friendly!
1 Of Our rooms and 1 Efficiency Unit are now Pet Friendly. (Rooms 1 and 11). 2 Pet Maximum.
>> PLEASE NOTE NEW POLICY! <<


Pets must be announced when you are making reservations

.

Failure to do so means your reservation will be cancelled at check in.
All we ask is that they are kept with you at all times and that you clean up after them. Also when you leave the premises they must go with you (for insurance purposes). Please do not allow them on the furniture. Following these few simple rules will allow your pets to accompany you cost free.
General Information:
The Errol Motel is conveniently located on RT 26 in the quaint little town of Errol, NH. While most people associate the area with some of the best snowmobiling, ATVing, fly-fishing, and hunting in New England, the ever growing popularity of kayaking, rafting, and canoeing have brought paddlers from near and far to the area rivers, lakes, and ponds.
Errol is an absolute haven for sight seeing; the area is abundant with the likes of deer, bear, fox, and rabbit. However, what brings most camera bearing people to Errol is our Moose.
There are many reasons to enjoy the four seasons in Errol, NH. Whether it's business or pleasure that brings you through our doors, we promise to make your stay with us as comfortable and accommodating as possible.
We hope to see you soon !